On the weekend from Friday May 6 to Sunday May, 9, 2011 the International Swimming Hall of Fame hosted the Centennial Celebration of Fort Lauderdale's Famous Beach and International Swimming & Diving Heritage. As part of the effort to promote safety in open water swimming, ISHOF and the Crippen family introduced the 1st Fran Crippen SafeSwim event in celebration of the late, great swimmer who passed away in a race in Dubai last October.
I drove up to Fort Lauderale on Saturday morning to take part in the 1 Mile Race. The course was setup as a straight one mile ocean swim both starting out of the water and finishing out of the water on the beach. One would think that after the Swim Miami only about a month ago I would have known better and learned how important of a role strategy and actually having a race plan is in open water swimming.
So let me tell you about the mistakes I made that Saturday morning. The one thing that was different from Swim Miami was the beach start and finish. The running start had me get all excited and made my racer instincts go crazy. Running in the ocean behind Olympian Peter Vanderkaay made me take a chance and after the first few dolphin dives I was swimming as hard as I could to keep up with Peter and the lead pack taking a right turn at the first turn buoy swimming towards the finish. It didn't last long and even drafting off their feet wasn't an option anymore…they had taken off. It should be obvious to anyone that a guy who swims about the same yardage a week as someone like Peter does in a single workout shouldn't try to out swim that other person.
The other thing that made my swim harder was my position in the pack. After the running start I started to pull slightly to the left to get a straight angle to the first turn buoy. At the time it seemed like a good idea but half way into the race I found myself still on that left side of the pack swimming with the beach on our right side. We had to stay within about 50m off the beach and swimming on the left side of the pack had me getting hit by all the incoming waves first. We were about a quarter into the race when I realized how bad my decision was and still swimming with the lead pack at that time I couldn't just swim through them and place myself on the right side. Looking at my energy levels at that point into the race, letting myself fall back and swim around the pack wasn't an option neither. And soon after I realized my mistake, I had to let go of the lead pack and found myself swimming on my own, getting hit by the waves anyway.
After coming out of his 10k race, Alex Mayer, a USA Open Water National  Team member who was training down in the Keys before the event, told me that we actually had pretty calm conditions that day. I had "complained/informed" him earlier after the mile race. This is a lesson for all the pool swimmers that participate in open water events. Don't expect the water to be flat and rely on those big wave breaker lane lines…there is no such thing in the ocean!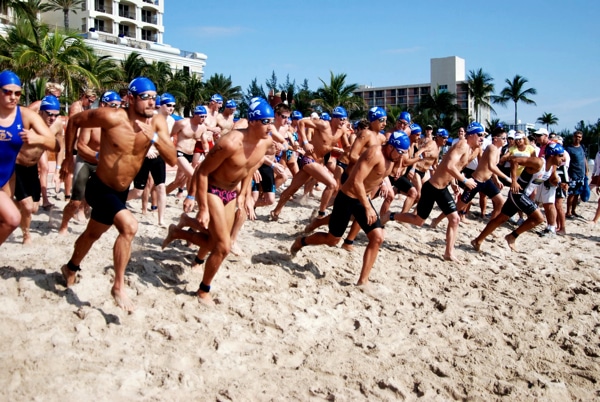 After the 1 mile race, there was a 10k Pro race with some of the world's finest Open Water athletes. Unbelievable but true, all of them found the power to stay around after their swim and offer some of their time to teach a clinic on Open Water swimming, free for anyone attending the 1 mile race earlier that Saturday. Melissa Gorman and Ky Hurst, both from Australia, as well as USA National Team Members (Open Water and/or pool) Christine Jennings, Alex Mayer, Andrew Gemmell, Chip Peterson, Chloe Sutton, Peter Vanderkaay and recently retired Aaron Peirsol just to name a few showed up with a smile and jumped back in the ocean with everyone for the clinic. I got partnered up with Melissa, who won the 10k race, and Christine, who got 2nd in the 10k race. Needless to say, I was able to pick the brains of two of the strongest open water athletes in the world right now and learned a lot during that hour. I will share some of the most important secrets for open water swimming that I learned about in an upcoming Aqua Note.
To finish, let me congratulate Maddy and Teresa Crippen and everyone else involved in this event. It was organized to perfection and an example on how to make open water a safe sport. I will be back next year and hopefully learn from my mistakes.
"Work the Dream" -Fran Crippen
This is a piece I wrote for the Race Club where you'll find the original Aqua Note "ISHOF Fran Crippen SafeSwim 2011" as well as a poll on open water swimming.