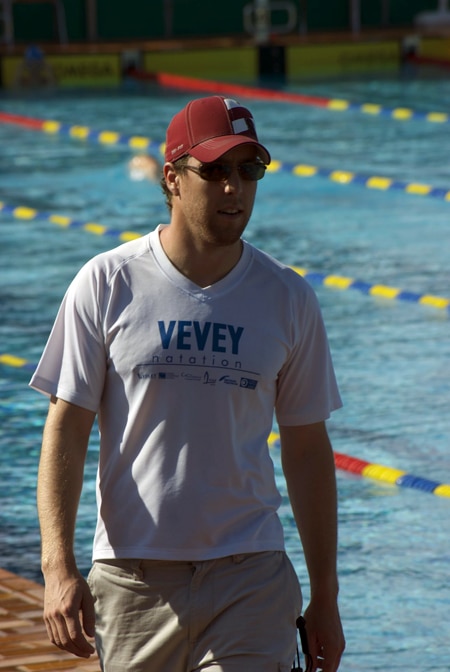 My name is Nicolas Messer. I was born and raised in Switzerland. In the summer of 2010 graduated from the University of Applied Sciences in Geneva, Switzerland with a degree in Computer Science. I'm currently in Zurich (SUI) working as a Coach with the Junior Elite Group of the Limmat Sharks.
Coaching
For the past three season I have been living and working in Vevey (SUI) as the Head Coach of the Vevey Natation Riviera swim club. Before moving back to Switzerland, I lived in the Florida Keys working as the assistant coach at The Race Club and coaching with the Flordia Keys Swim Club and the Manatee Master Swim Club.
Find out more about my coaching career.
Swimming
I have been swimming competitively since the age of 10. Before my departure to the Keys I was training under Benjamin Paris with Lancy Natation in Geneva.
Find out more about my swimming career.
Finswimming
My passion for finswimming came from my two coaches, Chris and Raffi, during my time with the Geneva Swimming Team. Both of them were using monofins to improve their under water kick abilities and got me hocked as soon as we started to use them as well.
Find out more about my finswimming career.
ProSwimWorkouts
In 2012 I launched a website called ProSwimWorkouts. The goal of the website is to give swim coaches around the world an outlet to share their knowledge and support their athletes.
Find out more about ProSwimWorkouts.
Geneva Eagles
Some of you might remember the Geneva Eagles Podcast. I was producing this new media portal surrounding the Geneva Swimming Team posting reports and results from meets as well as providing videos from the meets and other events. After the rupture between the Geneva Swim Club and myself I was understandably unable to continue the Podcast and it quietly disappeared. Although the portal no longer exists you can still access the videos archive on YouTube.
Find out more about the Geneva Eagles Podcast.