Swiss Long Course National Championships were held from Thursday March 19th trough Sunday March 22nd at the indoor pool in Oerlikon. I decided to participate in only two individual sprint events at this year's National Championships. And of course I took a lot of pride in competing with my team mates in the 4x100m freestyle relay.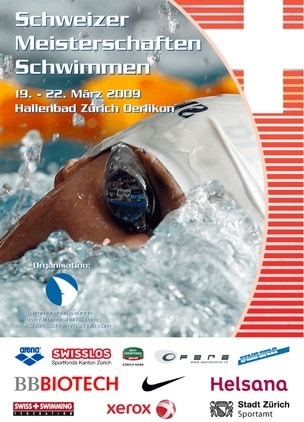 I took the decision to race in "only" two individual events after the meet in Montreux and based on my mostly poor performances at the indoor pool in Oerlikon. Also a lot of the events I would normally compete in, would have been on the same day and I really wanted to focus on one race a day.
On Thursday, the first day of competition, I raced in the 50m fly. My time of 27.00 wasn't fast enough to qualify for the finals but did mean the 3rd fastest time in my career. Although it would have been nice to dip under 27″, I was really happy with my performance as my personal best goes all the way back to 2002.
Friday was the day of the 4x100m freestyle relay. We (Aurélien, Yanouk, myself and Damien) swam in the main heat which took place after the finals of the evening session. I swam the 3rd leg and did a good job. At the end, we just came short of the medals as we finish 4th only 13 one-hundredth of a second behind the team home team Limmat Sharks.
Saturday was a crucial day as I didn't compete in any race on this third day. But I was able to do the necessary work to get ready and focus on the last day of competition. On this last day, I competed in the 50m free. And just as on the first day, my time wasn't fast enough for the finals but meant the 3rd fastest time in my career as my personal best in this event goes all the way back to 2002 as well.
Overall, I'm really pleased with the outcome of this meet. Although, I did miss to qualify for the World University Games which was one of my goals (even if it wasn't a realistic goal). And of course we all wanted to win this medal in the relay but who would have thought before the Championships that Lancy Natation would even stand a chance to compete for a medal. But I did my very best and had a lot of fun which ultimately is the most important thing … can't ask for anything more.
To finish, I want to congratulate my team mates and training partners, Damien Curtois and Aurélien Künzi, who both qualified for the  13th FINA World Championships held in Rome from July 17th to August 2nd this summer. As well as our "youngster" Yanouk Tyriseva who qualified for the Multi-Nation meet held in Athens in two weeks.
Full results of the meet can be accessed through the Lenex Online Viewer or on SwimRankings.net. You can also read an article from my club's website about our performances at the meet (obvisouly the article is in French).