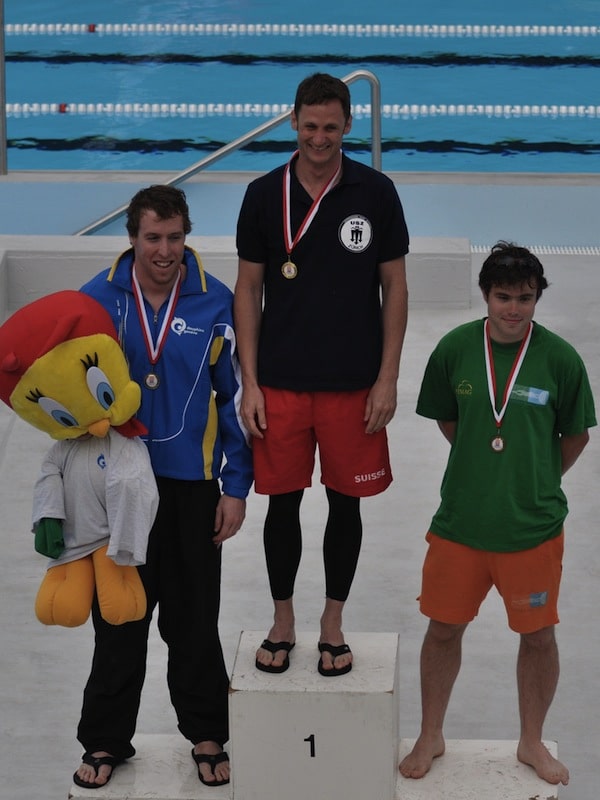 Another year came to a close and as the last two years, it's time to share some statistics about 2010. You'll notice that I wasn't a poster child for training in 2010 and as I announced in last year's post, my focus was on graduating, which I'm happy to say I did.
To sum 2010 up, I swam a "grand" total of 339.5km in only 79 swimming sessions and competed in only 2 meets which adds up to about 113 hours in the water. The two meets I decided to swim in 2010 were my club's, Lancy Natation, annual home meet and Masters Nationals to make me "feel better about myself".
Although I decided to try to make more finswimming practices in 2010 after some good results in 2009, it just didn't fit in the plan neither. But even without being in race shape I did also compete in two finswimming meets in 2010. A one race showing at my finswimming club's, Dauphins Genève, annual home meet and one day at Nationals.
Really nothing to be proud of myself but the love for the water and the excitement of competing got the better of me in those cases. But more importantly, I still like to workout and have fun doing it.
Some of you might have heard that I'm starting to spend more time on deck than in the pool. Making a living in the sport of swimming is a dream come true! And working with so many different athletes is making every day a challenge and a gift. Although I might not be in Switzerland or in the pool that often myself, I keep my registration with my swim and finswimming club. I also consider to join U.S. Masters Swimming so I'll be able to compete with some of the Fighting Manatees, the local Masters swim team in Islamorada.
We'll see how all that goes…I still think I got competitive juices but I also understand what it takes to compete at the high level. There's a lot of water to pass under the bridge but the one thing I'm doing is enjoying it and you should never say never.