On Saturday June 12th I participated at the 2010 Finswimming Championships in Brig. In the midst of final exams at school and not really a great training regime I decided this was the one distraction needed to "recharge" my batteries. As I was limited to one day, my program for this year's meet looked a bit different from what it probably would have otherwise. And it also marked my first outdoors competition of the year.
I started the morning with the prelims of the 100m FS and placed 2nd with a time of 48.6 which was good considering I was holding back a little and using my soft workout fin. Next up was the 50m AP. I won the silver medal in 19.5 which came rather as a surprise. I used the Glide for this race what probably slowed my down off the blocks, so I was actually pretty happy with that time as well.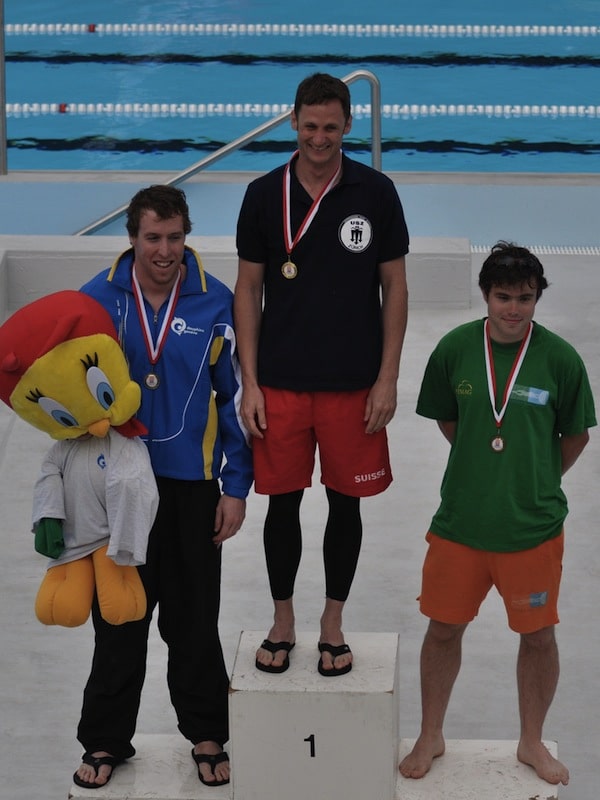 Pretty good morning so far and my next event, the 100m BF, wasn't even on my plan before I got to the meet. The event wasn't on the meet information and I decided to add this event to my program during warm-up in the morning. I really didn't face any competition in this event and was able to control the race but was glad to get a win for my team.
Now came the event you normally wouldn't see on my schedule. I was up for the 400m FS. I decided to make the most of the day and maybe also "prove" some things to the young kids on my team. I finished 6th in comfortable 4:12.8 (doesn't mean it didn't hurt!) and probably still lost too much energy before the final of the 100m FS.
So last race of the day, final of the 100m FS. I knew the win probably wasn't possible this year but I really wanted to defend my 2nd place from the prelims. I decided to take some risks and put on the Glide fin. Well, it wasn't the right decision as I ended up 5th in 49.3.
Still overall it was a good championships meet for myself and I had a great time with my team and friends.
More pictures from the event are available on Martin Gmür's Flickr page. Full results can be downloaded in PDF format and my personal results can be viewed in the results section.