On Sunday Dec 6th I participated at the Copa da Natal hosted by the Flippers Team Locarno at the Centro Sportivo di Tenero. We left around noon on the day before the meet to bring the 6h travel involved in getting from Geneva to Tenero behind us in a more or less stress free and comfortable manner.
Even though I felt tired because my studies kept me busy and up late many nights, I was looking forward to compete in LCM again. Finswimming is just a different beast in SCM with twice as much under water work involved. And of course in the "high-speed" events such as the 50m AP the turn slows you considerable down.
I didn't feel great the night before the meet but when I dove in for warm-up the day of the meet I felt good and new straight away that today I would be able to perform at a good level. And indeed, I did have a good meet and didn't get disqualified for going over the 15m mark as I did last year. My best effort probably came as last year from the 50m AP where I did get a 2nd place finish.
Other than that I did have quit a busy schedule set up for this meet. With the Bi-Fins being officially added to the programs starting 2010, I entered all 3 races (50m, 100m and 200m) in this category. Most people might think that as a swimmer I get a huge advantage over my competitors in these races but the fins really change the whole dynamic and considerably shrink the advantage. Never the less, I was able to bring home two 2nd and one 3rd place in those three races. Of course due to the fact that those races are just recently added there are not as many competitors as in the classic fins races yet but I'm pretty sure well see this number growing as there's already a high level on the world-wide stage.
For my two other races the 50m and 100m FS I did take some risk in swimming with my workout fin. I really got used to this fin and it feels way more comfortable than the Glide fin I used for the 50m AP in my first race of the day. On the other hand, my workout fin is pretty soft and doesn't allow for much power to be applied in the water which of course is a disadvantage on those short distances. I manage to have an average time in the 50m FS but did not stand a chance in the 100m FS.
All in all, I had a great weekend with a 3rd place finish in the overall points ranking. I did take some risks and it didn't pay off but it was the right stage to try out some different set ups for my races. There are two main points I'm taking into the new year; 1. I probably need to get an approved pair of Bi-Fins if I want to get any official results in 2010, 2. I need to start looking around for a stiffer fin for future races.
To finish up, here's a picture of the small Dauphins Genève Team that made it to this year's Copa da Natal in Tenero.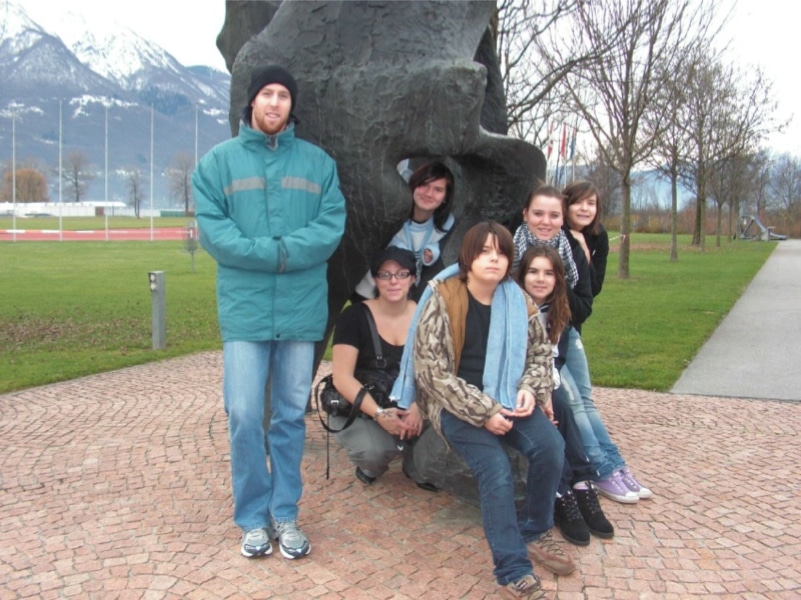 More pictures from the event are available over on Ralph Hecksch website. Full results can be downloaded in PDF format from this link and my personal results can be viewed here.